Landscape Edging Ideas: Lawn and Garden Edging
Landscape Edging Ideas: Lawn and Garden Edging
Gardens are so common in residential homes. There are many who want to live simply after retirement and one thing that keeps our elderlies is gardening. But nowadays, even stay-home-moms and singles are starting to get hooked with gardening. Some are even starting to get hooked with cacti, bonsai, orchids, and other plants that are perfect for the home. Many of us dream about having a garden to look after, but it's not as easy as it looks.
There are a lot of factors to take care of when creating your very own beautiful haven. Gardens are as tedious as they can be because it's also like building your dream house. You need to consider what kind of garden it will be and of course, carefully plan its landscaping. Gardens serve multiple purposes and one of these is it beautifies and adds life to your front or backyard and your home itself. Landscaping can be very tricky and hard to execute but need not worry as there are already easy to access source to get ideas from.
What is a Landscape Edging?
When creating your very own garden, you have to think about its overall appearance and purposes just like planning an event or building your house. You need to consider the plants, materials, and most importantly the landscape design. Landscaping of gardens involves creating the landscape edging which serves as the main dividers of the beds and other parts of the garden. They also add accent and direction in your garden which is very important. Technically, it is a border for your flowers, the guide to your patio or backdoor, and a shrub bed. If you also want to show off your garden to friends and families, having a quality landscape edging is important.
There are many ideas for landscape edging in lawns and gardens. There are a lot of materials to choose from when having a lawn edging starting from plastic, metal, aluminum, wooden logs, and masonry materials. Concrete and brick materials are prominent in lawn edging but granite tiles won as one of the favorites among garden owners.
Granite Tiles for Landscape Edging
Granite tiles may be expensive but it has a lot of benefits to your garden. First, it comes in various colors and unique and natural design patterns. Second, it is weather resistant and durable which matches the outdoor setting of your beautiful garden. It also suits high-traffic areas so you are sure it will last long. Third, it is natural material which will add nutrition to your plants, helping it bloom and grow the more.
These facts about granite tiles are the reason why you should choose it over other materials. It can also complement well with all the colors of your gardens because it doesn't come in just one style. You can choose from greenish, bluish, light colors like white, grey, and salmon. Granite tiles also come in dark colors which can match bright and pastel-colored flowers. Using granite tiles lets you explore the value of art and practicality. One can always play along with the natural colors that the material and living things will appear like when fixing their landscape edging.
Lawn and Garden Edging Ideas Using Granite Tiles
Granite Tiles as Walkway and Border
One can definitely use this material as their walkway in the garden, too. This kind of style is common to business places. Since granite tiles are sturdy materials, you may always use in your walkways. It is often used on bathroom floors and even the whole flooring of the house. Using it not just ensures a beautiful walkway and garden edging but a safe one as well due to its durability and toughness.
Granite tiles edging with flower bed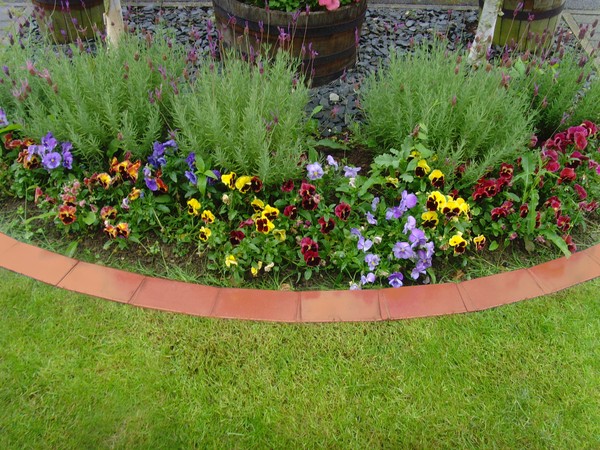 One can definitely create their own magical land by planting various flowers and surrounding it with granite tiles. Doing a huge circular flower bed with granite as its main frame outside will create a natural and huge bouquet effect on your garden. Doing so can also save you space, money, and time in fixing your garden.
Combining granite tiles and stones
If you want to have a more natural effect, you can go ahead and add stones after the granite tile layers. This creates a more natural effect on your plants and flowers. You can play along with adding either pebbles or large stones. The awesome thing about combining granite tiles with these stones is that they are both earthly-materials. Meaning, you are giving your garden a more organic look.
Building plant boxes with granite tiles
When you do this kind of landscaping edge, you are saving yourself from buying plant/flower pots from time to time. Since granite is from Mother Earth, it has minerals that will be absorbed by your plants as well. It is also sleek and shiny, making the plant boxes appear more like a gem than normal ones. As mentioned above, it also comes in various colors so you can go ahead and select the one style that matches your desired selection of plants and flowers. Going organic with your garden edging is just one way of showing your love for a hobby of perfection: gardening.
Bermuda grass and granite tiles
Garden walkways of granite tiles are awesome but pairing it with Bermuda grass is one hell of an idea. You can go ahead and pair your lawn edging with the flower bed edging. Keep the granite walkway in the middle of the grass and flowers. Especially if you chose a bluish shade of tiles, you will feel like walking on waters with your blossoming flowers and grass on the sides. You are definitely doing it right when you opt for granite tiles in creating your landscape edgings.
Granite tiles come in different colors. You can opt for darker colors if you want to use it in your walkway. Choosing lighter colors of it can match dark or bright colored flowers and darker ones can match the lighter ones. The conclusion is that investing with it will always be a long-lasting one!