Kitchen Benchtops and Countertops
Kitchen Benchtops and Countertops
A kitchen countertop lets you enjoy the comfort of efficient cooking while allowing your children to interact with you. A countertop also referred to as benchtop in British English, is the horizontal working space in frequently-used areas like kitchen, bathroom, and general work location.
Fortunately, there's a benchtop available on the market to suit your specific needs whether you prefer to have a modern, contemporary, rustic, or industrial surface look. While considering what countertop design will look great for your kitchen, never forget to consider other important factors like price range, ease of repair, and cleaning procedures.
Popular countertop finishes
Countertop materials come in a variety of options, which may greatly influence your decisions, design considerations, and of course, budget. It might become helpful if you familiarize yourself with the pros and cons of every material that's been used as a countertop, especially if you're planning a complete kitchen renovation. Here's a round-up of some commonly-used countertop finishes that can help you reach an informed decision.
1. Butcher block
Source: Pixabay
Perfect for a farmhouse location, the butcher block is another exciting countertop material, which is highly resistant against stain and heat. It blends perfectly with granite or marble backsplash, stainless steel, and walnut cabinets. This countertop allows better movement around the preparation zone as the material is able to withstand heavy usage. However, the butcher block is not recommended for a sink area, especially if the top surface is in varnish or mineral oil finish.
2. Quartz countertop
source: Archcitygranite
Quartz has become an interesting choice of material for a kitchen countertop due to its impressive features and ease of installation. This man-made stone delivers a realistic surface finish, closely imitating other stone materials including granite, marble, and limestone. But quartz countertop is comparatively easier to maintain than natural stone options. In addition, the engineered stone is moderately susceptible to exposed heat, frequent scratch, and fungus build-up over time.
3. Granite
source: Pixabay
Granite can provide you the real deal when installing as your primary countertop. Each stone slab or tile format is made unique, which hinders stone manufacturers from reproducing granite in bulk quantities. This beautiful natural stone is capable of withstanding heat, water, moist and heavy use, but may be prone to chip at the edges and corners. When properly sealed, polished and matte finishes are able to resist stain, so periodic stone sealing should be kept consistent.
4. Bamboo
source: Totally bamboo
A bamboo countertop seems like a better eco-friendly option if you prefer a farmhouse setting for your kitchen. It can be installed as a custom-built countertop, supported with either concrete or timber substrate. This option might be excellent at first, but bamboo is highly vulnerable to staining and heat damages. Bamboo is not recommended as a countertop, particularly if it's near to the sink because the material tends to develop warp and mildew.
5. Laminate
source: artscountertop
Considered inexpensive and stylish, the laminate countertop can offer the exact exquisiteness you want for your preparation area. Laminate is known to resist heat and stain over a longer period of time, but not with direct cutting or heating. This engineered wood material easily complements any tile flooring, stainless steel appliances, painted cabinets, and walls. Unfortunately, laminate may not be able to perform the same as other options such as granite, ceramic and concrete when installing near the kitchen sink.
6. Limestone
Limestone works almost similar to marble but considered impractical for a busy kitchen area. This natural stone is great against direct heat, but unable to completely resist water, oil spills, and scratches. So what you need to do is to wipe the spills immediately or maintain periodic sealing to help your countertop maintain its original form.
7. Concrete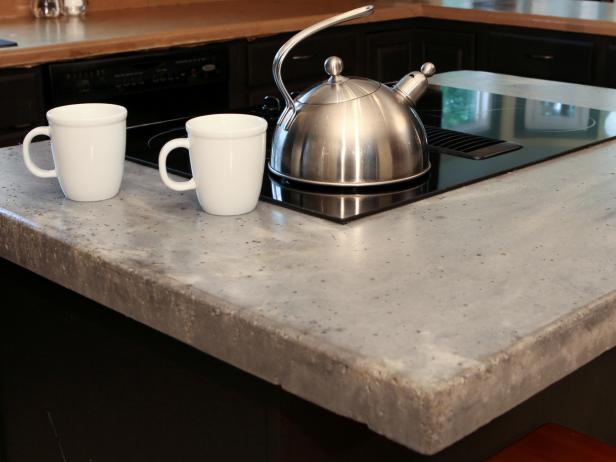 source: diynetwork
A concrete countertop is made custom-built at most times, so expect its quality and performance to vary. Regardless of the finish, concrete gets scratched, cracked, and stained easily, so regular sealing should be maintained. You may use penetrating sealers to protect the countertop from heat absorption, but it won't be able to control stain. Concrete is also a suitable substrate material for other countertop options like stainless steel, ceramic, granite, and marble.
8. Marble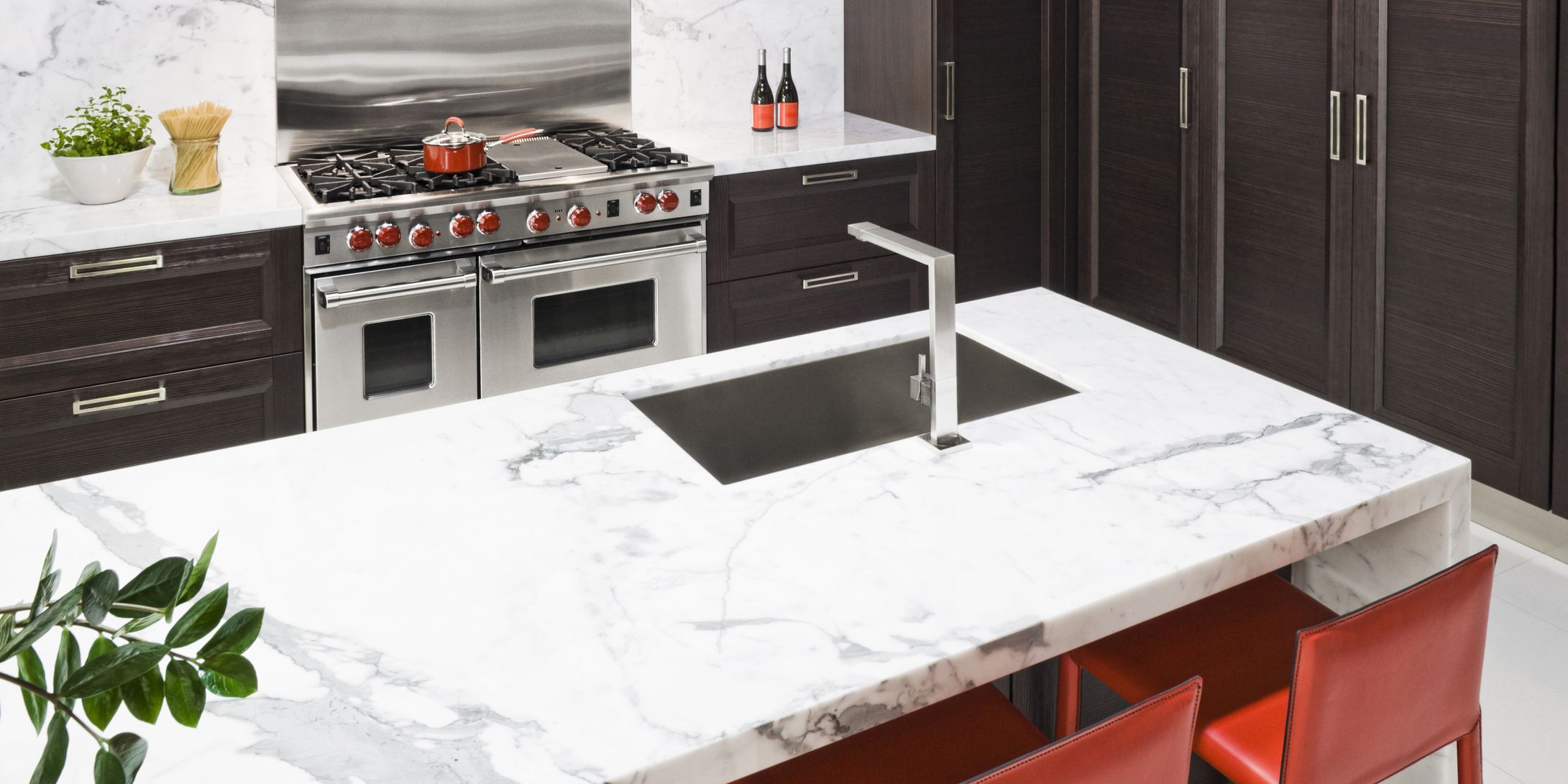 source: housebeautiful
Marble has been a conventional option as a kitchen countertop for many years.
This natural stone tends to have scratches and nicks with prolonged use but can be polished out using stone sealers. Liquid spills, particularly acidic beverages and cooking sauces, should be wiped out immediately with water. Since the material may crack easily, regular slab sealing at least once in every two years is recommended.
9. Recycled glass
source: stockcabinetexpress
The recycled glass comes in a variety of glass patterns and color combinations, which may add interest to your countertop. The finely-grounded glass appears subtle, while huge fragments of glass may look striking. Recycled glass can resist heat, stain, and hard scratches, but may easily crack or develop stubborn stains in the long run.
Difference between custom-made and ready-made countertop
When you're searching for a countertop, you must have heard about custom-made and ready-made materials. You may find these options applied in concrete, natural stone, laminate, solid surface, and engineered stone.
But still, it might be helpful to know the difference between these two manufacturing processes to help you decide which one is the best.
Custom-made countertop
These are countertop materials created from a solid slab of stone, concrete or wood. Clients are able to select the exact piece of slab they prefer while providing them endless choices with regard to patterns and styles. However, in the case of natural stones like granite, no two individual slabs appear exactly the same, which allows you to purchase a unique piece of material. Since your kitchen countertop will come from a single piece of stone, for example, expect the colors and patterns to remain consistent even if you still need to cut and seam different sizes.
However, custom-made countertop may seem a bit more expensive since the supplier will need to measure your countertop on site, which may potentially cause some delays. So it is important to include installation cost, the timeline of delivery and required quantity in your estimates.
Ready-made countertop
Ready-made is another term for "pre-fabricated," which means that the countertop has been cut to specific standard dimensions before reaching the building suppliers. Though limited in sizes, these manufacturing options may greatly reduce your overall construction cost and project delays. Opting for a ready-made countertop can help you save more than having a custom-built slab, particularly if one of the available standard dimensions fits the location of your countertop perfectly. The best part is that many manufacturers already include accessories like backsplash and edge profiles, for instance, in the granite package.
Your kitchen life won't become complete if you don't have a reliable and efficient countertop to go along with your everyday cooking. Before making a final decision, it's important to weigh your current budget against the demands of you